"Bay Conservation Alliance, an organisation linking together 14 of the most significant community conservation groups in the Bay of Plenty, is very happy to announce that our innovative 'Bay Conservation Cadets' programme has been included in the first round of conservation focussed funding announced by the Prime Minister, Jacinda Ardern last Sunday.
The funding is part of an initial tranche of $162m across all regions and is part of the government's post-Covid job creation and environmental support strategy. 
The Bay Conservation Cadets – employment, training & development programme will be developed and delivered by Bay Conservation Alliance -BCA, whose role is to support, sustain and grow community-led environmental restoration and nature conservation. BCA currently supports 14 biodiversity conservation groups in the Bay of Plenty. The cadet programme will train 150 cadets over five years.
"This is an incredible opportunity for the Bay of Plenty," says Bay Conservation's Chief Executive Michelle Elborn. "The restoration of our natural environment is central to the health and well-being of our community and our native biodiversity.
"There is a significant opportunity supported by the recent government funding announcement, to mobilise new people into the environment sector."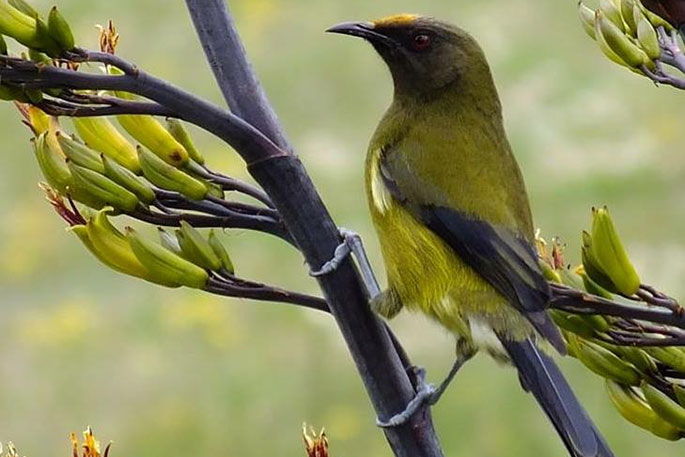 Beautiful bellbird in colour-coordinated flax. Photo: Supplied
The Bay Conservation Cadets programmes will run three times a year for 12 weeks, with ten new cadets participating in each programme. The first programme is due to start in late September.
Cadet training will include a wide range of skills and certificates including Growsafe, outdoor first aid, pest control, Rongoa, GPS, all increasing longer term employability. The programme will have a large experiential learning component where cadets will undertake work at Bay Conservation member group sites, on behalf of council's or DOC or alongside key partners. This presents meaningful work experience with real conservation outcomes. The programme will also provide ongoing support for cadets to gain longer term employment after the 12-week programme.
"It's vital that COVID-19 recovery efforts are designed and delivered in collaboration with people from all sectors of the community, and are targeted to achieve social, cultural and environmental outcomes as well as economic ones," says Bay of Plenty Regional Council Deputy Chair Jane Nees. "The Bay Conservation Cadets project is a great example of that in action. We've assisted with the co-ordination of funding bids for our region and Bay Conservation Alliance, as a local community group, are now empowered to deliver the project.
"The cadet programme will not only help to generate jobs but also increase community capacity to deliver on the many environmental restoration projects we have planned and underway in the Bay of Plenty," says Jane.
"The focus now is to build all the right systems and connections to deliver a great programme that supports both employment opportunities and the unique biodiversity of Aotearoa New Zealand." says Michelle."
Sunlive Media, Saturday 11th of July 2020